AIAKEION
Leof. Demokratias 18-20, Waterfront, Aegina
"Pistalicious", the new pistachio drink!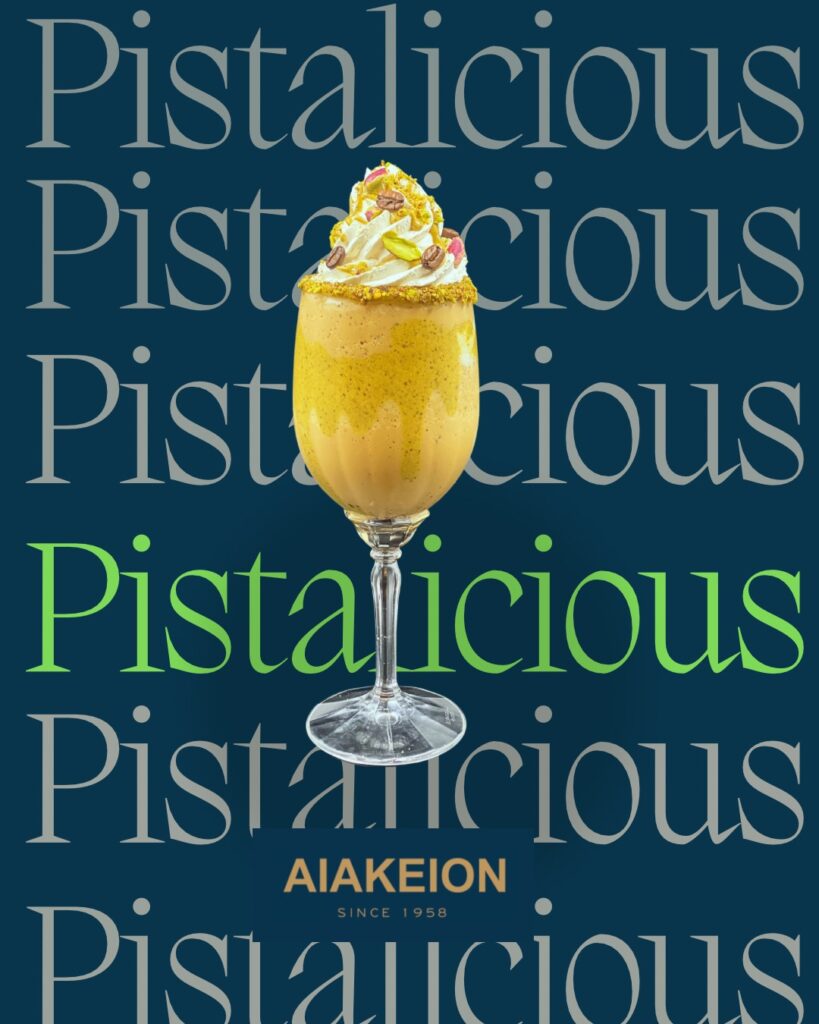 Since 1958, the Aiakeion Patisserie on the Aegina waterfront has built a strong reputation making a wide variety of exceptional sweets, special ice creams and savory treats for an unforgettable experience of gastronomic pleasure.

Continuing their family tradition, Alexandros and Michalis have created a range of new products based on locally grown pistachios which have earned awards for quality, flavor and originality.

Based on pure ingredients obtained from Greek producers, care, artistry, creativity and hard work, the Aiakeion Patisserie has been the top choice for sweets in Aegina, unsurpassed in presentation and flavor for more than 60 years.
The AIAKEION is certified to the Codex Alimentarius – HACCP standard
Café – Patisserie
You can enjoy a cup of coffee, dessert, a drink or a meal at any time of day, all year round, from the vast selection at the Aiakeion Café-Patisserie, with an unobstructed view of the harbor.
Aiakeion Aithrion
On warm summer evenings, enjoy the breeze and marvelous view of the Aegina harbor from the Aiakeion Aithrion on the upper terrace, where Alexandros Koukoulis and Michalis Galanis and the Aiakeion staff prepare refreshing cocktails and tasty dishes for moments of sheer pleasure. Open every Friday, Saturday and Sunday after 8 pm.
Aiakeion Catering
Aiakeion Catering was created to take advantage of the Aiakeion Patisserie's know-how and extensive experience and can respond with ease and speed to cater events that require serving hundreds of guests, or more intimate gatherings. The quality of ingredients, the flawless organization and catering equipment, together with ongoing investment in quality solutions, are a guarantee for the success of your event.
Aiakeion E-shop
Pistachios, pistachio creams and other spreads, jams, sweets and snacks, Lenten and vegan products and attractive gift boxes are all available through the Aiakeion E-shop. See all our products and place your order on-line.
22970 22249 sales@aiakeion.gr aiakeion.gr
---
Find shops for Food and Beverage on Aegina island
---